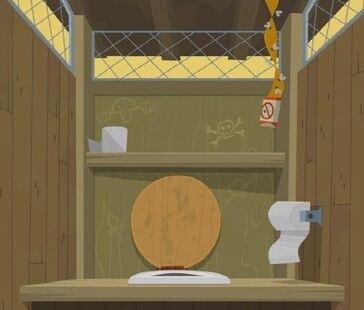 The confessional cam is nothing more than an unkempt outhouse with a camera. This is the place all characters use when posting video diaries for themselves dishing out their personal feelings about the location or the other contestants, or discussing their plans for the game.
Aside from speaking their minds, the Confessional Cam is also used for placing votes on who to vote off the island. It used to be for placing secret ballots in a box, but after the "If You Can't Take the Heat" challenge, ballots are now made vocally in the Cam.
The Confessional Cam is not just limited to the contestants. Chris, Chef, the Interns, and even some animals are known to use the Cam as well.
Chris is the first non-contestant to use the cam and Chef is the last
Gwen is the first camper to use the cam and Harold is the last